Authentic Puglia – 7 Magical Days in Southern Italy
This is a 7-day itinerary for an early summer or late fall driving trip through Puglia.

Planning a trip to Puglia? Bravo! You've already made one great decision. Located in Southern Italy in the heel of the boot, my home region was largely undiscovered until the last 15 years. While Puglia is best known for its stunning coastline, baroque architecture, and bucolic villages, it's also a place of ancient traditions carried on today, welcoming people, and of course the cibo – our food, distinct from anything else you'll find in Italy.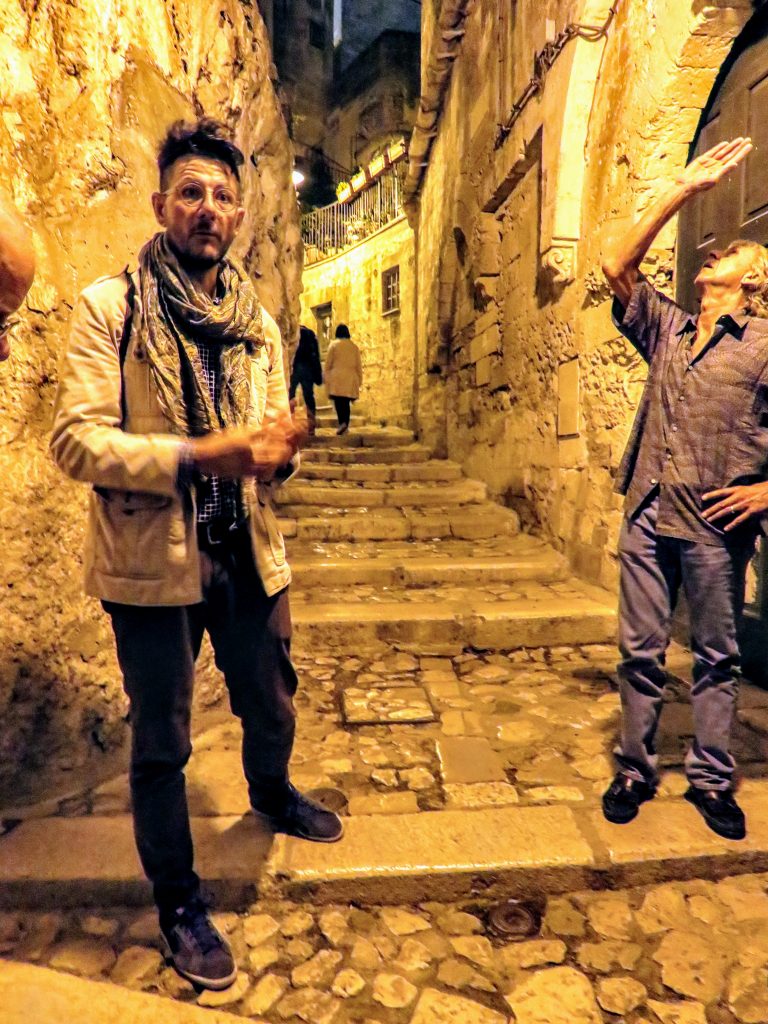 To get the most out of Puglia you should really rent a car. This is still Southern Italy, so remember that public transport can be unreliable and lots of places are poorly connected. If you choose to go by bus and train, make sure you pack some patience – it will certainly be an adventure!
The best time of year to come is late spring/early summer or after the second week of September. By late spring it's warm enough to swim and you can trade in your pants for shorts. You'll be here before the worst of the heat and the chaos of the summer crowds. Puglia can become stiflingly hot in July and August and Italians as well as foreigners take their vacations this time of year. Big bus tours and day trippers from cruise ships are also now commonplace. In late September the weather is still excellent, the crowds will have largely departed, and the bambini (kids) are back at school so no more family holidays.
Depending on your interests, there are different ways to best organize a trip here. For this itinerary, we're going to focus on a few days visiting charming cities and towns before spending some time relaxing by the seaside. It can be tempting to try to pack as much as possible into every day, but remember, here in Southern Italy the pace of life is still a bit slower. To really experience Puglia the right way, take it slow and enjoy soaking in everything around you. Make time for an evening passeggiata (the traditional end of day stroll through town) and an aperitivo (drink and snacks).

Allora, let's get into the actual itinerary.
Day 1 – Welcome to Bari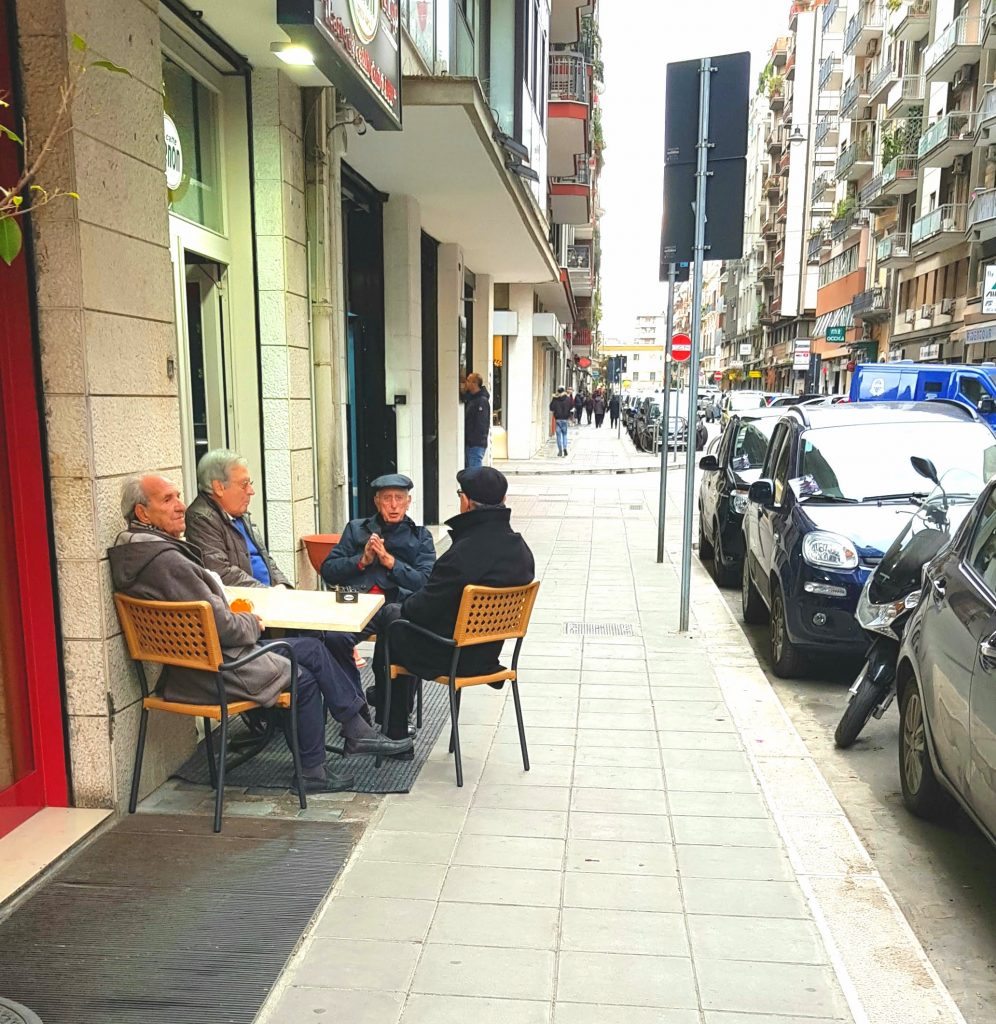 Bari is the capital of Puglia and Southern Italy's 3rd largest city. It is generally overlooked by tourists, but it has changed immensely in recent years and is an interesting place to visit, especially if your flight or train arrives here. The city is located right on the sea and has a beautifully preserved historic center, Bari Vecchia, that is a maze of narrow streets and alleyways. You'll find terrific food, excellent shopping, and vibrant night life. Keep in mind that it is a bustling place and for unprepared visitors can be a bit overwhelming at first. So, come prepared and settle in slowly.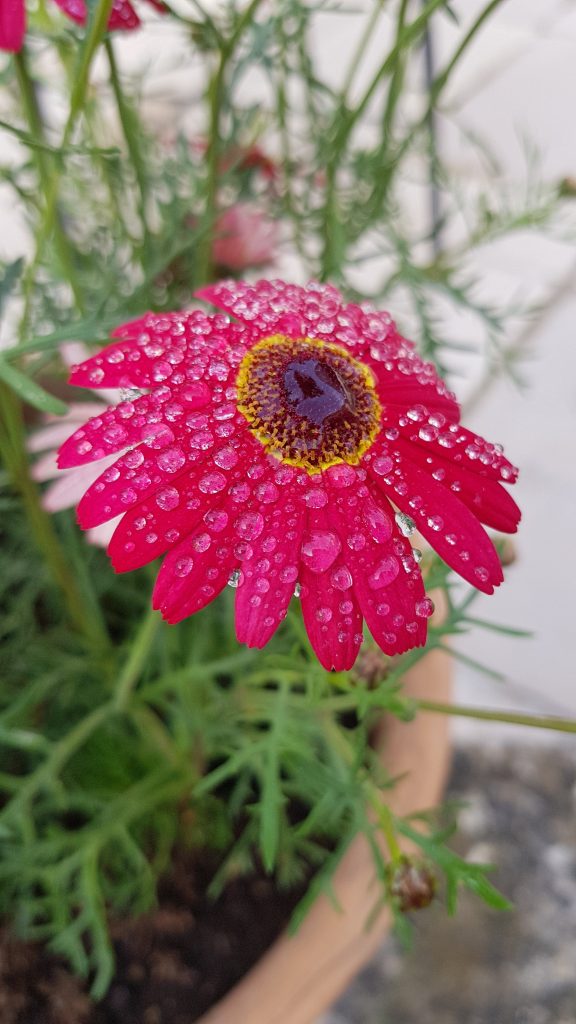 Until fairly recently, the historic quarter was considered marginally unsafe for visitors. In the 1990's there was an eruption of violence between criminal groups that made many parts of the city no-go areas. Contributing to the instability, the exodus of Albanians from Albania after the fall of communism led to the arrival of tens of thousands of refugees whom the state was ill-prepared to accommodate. The last 20 years have witnessed a dramatic revitalization of the area and it is now very safe and a great place to visit.
Any visit to Bari should start in Bari Vecchia. The old town is very authentic so a good place to go for a glimpse of local life. Start near the castle (Castello Svevo) where you have 2 little alleyways always with old ladies sitting outside making orecchiette, our typical round pasta which translates as "little ears". You can also find them frying polenta (corn meal) and selling it for a quick street food treat. Let yourself get lost in the narrow alleys making sure to stop by the Duomo (the San Sabino Cathedral) and the Basilica di San Nicola. For a traditional snack of Bari-style focaccia, you can't go wrong with either Panificio Fiore or Panificio Santa Rita.

After your wander in the old quarter, head down to the lungomare, the seaside promenade, and stroll from here to the Teatro Petruzzelli Theater which is the symbol of Bari. Pay a visit to Italy's 4th largest theater and learn a bit about the history of the city. From here, make your way to the Fish Market (N' dèrr'a la lanze on Molo S. Nicola, 6, 70121 Bari BA) to see some of the freshest fish in Puglia sold at super reasonable prices. Unlike many markets which have become tourist destinations, this is still an authentic, functioning marketplace. You'll hear the vendors speaking in a dialect unique to Bari Vecchia which even other residents of the city struggle to understand.
This is a good chance to see and eat what we sometimes call sushi pugliese (Puglia-style sushi). Distinctly different from most of Italy, in Puglia we eat lots of raw seafood. A few must-try dishes are raw squid cut into strips (known as tagliatelle – so careful when ordering if you want pasta!), gambero rosso (red/pink prawns), raw mussels, and raw octopus. If you didn't fill up at the market, stop for a quick bite at Mastro Ciccio (Corso Vittorio Emanuele 15) which is a very trendy place to try traditional street food elevated into creative inventions. You can see his masterpieces on Instagram, but fried burrata cheese and octopus sandwiches with pesto and fresh mozzarella are among the options.

After a late lunch make sure to check out Via Sparano and Via Argiro, two lovely, pedestrianized streets leading from the Old City up to the train station. These are two of Bari's most famous streets for shopping with many elegant boutiques and designer brands.

Now you should take a much deserved break and relax for a bit at your hotel.

In the evening, for dinner try Ristorante Biancofiore (Corso Vittorio Emanuele 13) for a traditional seafood meal at my favorite restaurant in town.

You also have a few curiosities in Bari. San Nicola, or Saint Nicholas, is revered by Eastern Orthodox Christians and there are two churches dedicated to him in Bari. One of them is an actual Russian orthodox church. The Basilica di San Nicola (the only church where Christian Orthodox and Catholic share) is located in the Old City at Largo Abate Elia 13 while the other is at Corso Benedetto Croce 130.
Day 2 – Bari to Matera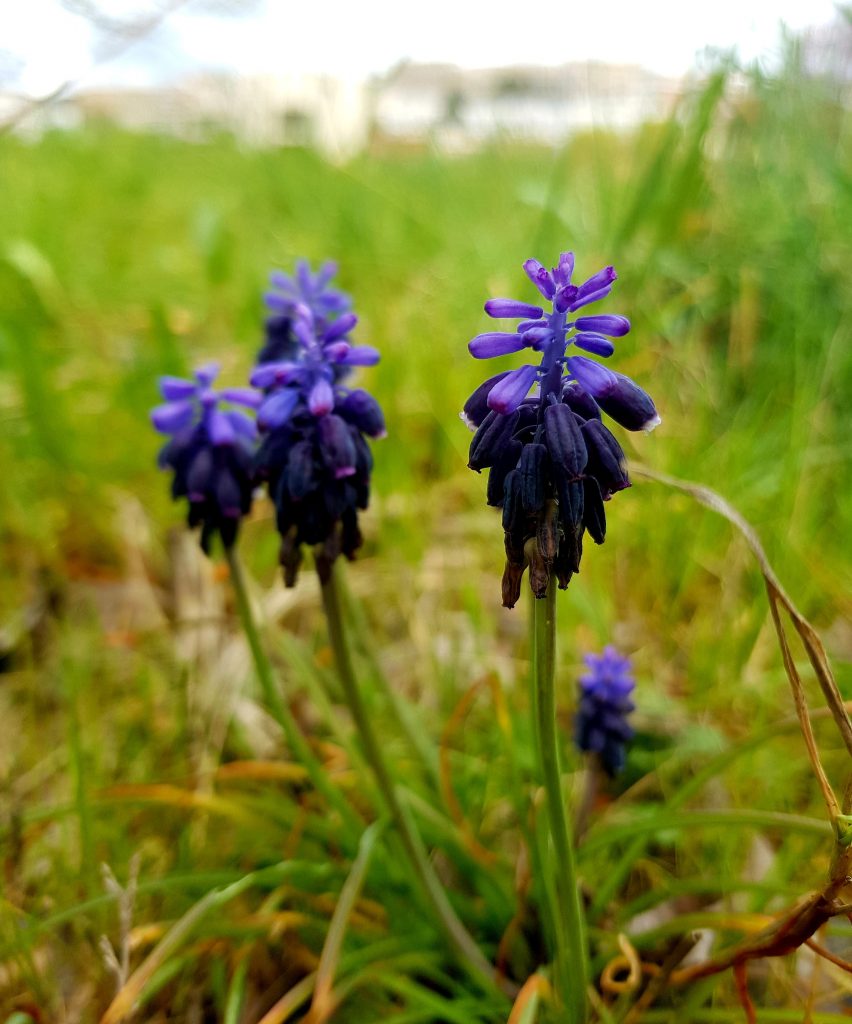 It isn't technically in Puglia, but Matera is only a few miles from the border and very easy to get there from it. Driving to Matera you will see the landscape changing and moving from the sea to olive orchards then to wide extensions of durum wheat fields before suddenly, like a slash in the earth, a majestic canyon – a ravine getting deeper and deeper as you climb up into town.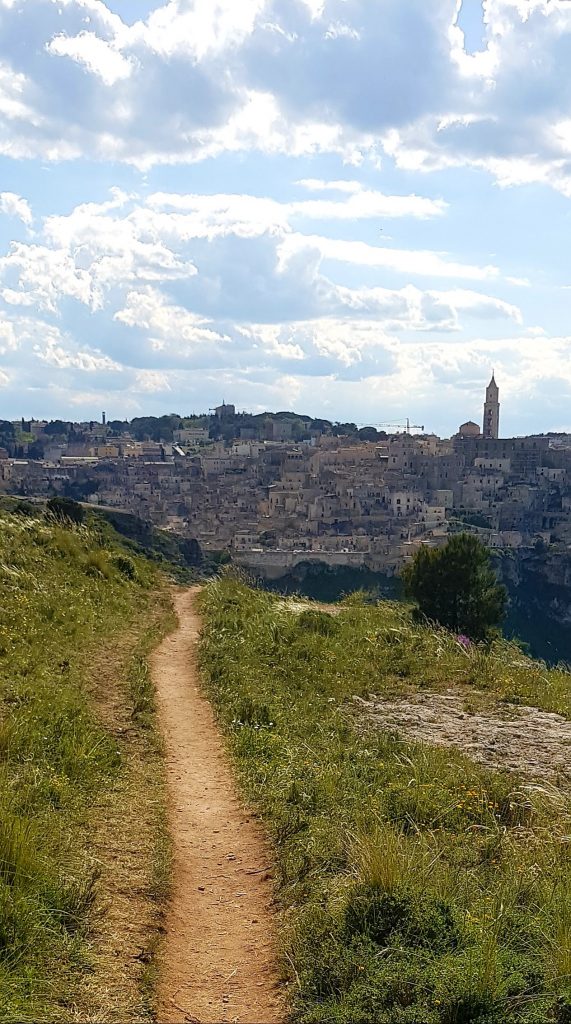 Matera is an experience; a jump back in to time with thousands of years of history made by people that managed to carve the rocky side of this canyon into nearly 5,000 caves used for living well into the 1950's when the Italian government decided to relocate 15,000 people from there into new living quarters.
If you are more a traveler than just a tourist you won't miss the opportunity to live the experience at its best by choosing one of the many cave hotels as your base. Over the next two days you'll have the chance to explore Matera's stunning treasures as well as the ravine and almost untouched rocky dwellings cut into the side of the canyon.
Leave Bari and head to Matera with a stop in the city of Altamura on the way. You could go to Matera by train, but the 60 km journey takes over 2 hours on a rather old diesel train. If you do opt for the train, remember that it does not run on Sundays.

Altamura is about 45 minutes from Bari and a good place to stop and stretch your legs. It's famous for its old bakeries (Santa Chiara is a famous one from the 15th century). While here, you should try their traditional bread and focaccia which comes with cherry tomatoes. Another local treat is pasticcio altamurano, which is basically a stuffed focaccia filled with baccalà (codfish) or tuna, onion and olives.

From Altamura it's about 20 more minutes to Matera. On arrival, stop by your hotel and drop off your bags and car. 70% of the old town is caves, so your hotel will likely also be one. This is an experience unique to Matera (unless you've been to Cappodocia). We refer to the cave dwellings as "sassi" which means stones or rocks.
Check this two (the second one it is really… an experience): https://www.aquatiohotel.com/en/ and https://www.sextantio.it/en/legrottedellacivita/matera/
From your hotel, go for a walk in the upper town on the way to lunch. The whole city is magical and you will love simply meandering through its streets. The city is full of staircases, alleyways, lovely churches, and lookout points. Wandering around Matera with no particular direction is one of its biggest charms.
A great lunch option is La Latteria (Via Emanuele Duni, 2) where you can sample the best cheeses and local salumi (cold cuts) as well as traditional recipes like crapiata (legume soup), fave e cicoria (mashed fava beans with chicory), or cruschi (dried and deep fried peppers).

After lunch, make your way down to the Sassi in the lower part of town. Between 11 and 3 this area can be very crowded so enjoy a leisurely lunch and visit later in the afternoon. You can also come back for a look in the evening or early in the morning when the light is beautiful. The most famous structures are two "rupestrian" churches, Chiesa di Santa Maria di Idris and Chiesa di Santa Lucia alla Malve and they are spectacular. However, both are very popular and being shoulder to shoulder while visiting can detract from the magic. A better idea is to find a good viewpoint to observe from, but save an inside visit instead for Cripta del Peccato Originale, my personal favorite of all the churches. More on that tomorrow!

In the evening, you can go to Vittorio Veneto (the main square), and from there you have two streets to walk on: Via delle Beccherie (which means the street of butchers, though they are not here anymore!) and Corso Vittorio Emanuele. Via delle Beccherie heads to the cathedral and is full of little shops selling artisanal crafts and clothing. There's also a good craft brewery if you like beer. Before arriving at the cathedral you'll pass by Piazza del Sedile where there are lots of bars favored by the locals to get an aperitivo. Great atmosphere! Corso Vittorio Emanuele which is where all local people go for a stroll and takes you to a fabulous lookout point in Piazzetta Pascoli above the Sassi all lit up in the evening.

For dinner you are spoiled for choice. For high-end, creative cuisine Baccanti (Via Sant'Angelo 58) is always a treat. If you're feeling a bit more casual, Oi Mari is a good option for a pizza.

For a pre-dinner drink, Quarry (Via Muro 35) has a stunning view from their terrace and excellent cocktails. It is too exclusive for most locals, but is probably the best spot in town.
Day 3 – Matera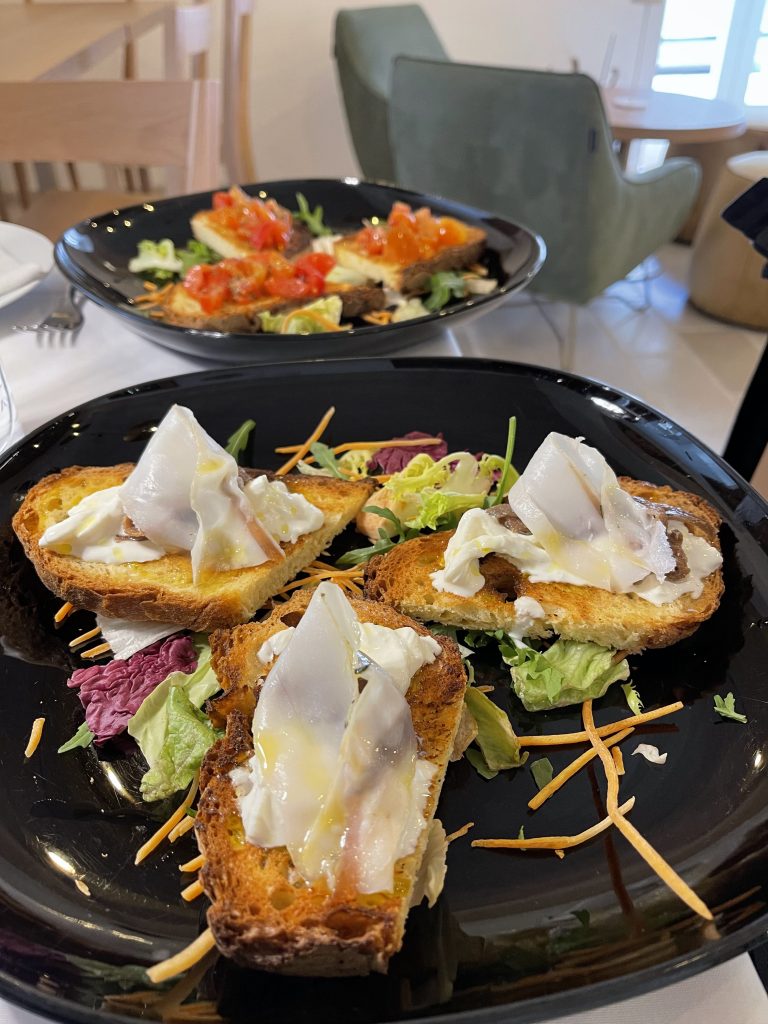 If you'd like another visit to the Sassi, remember to get there early morning before the crowds. You have the option to rent an audio guide but if you want to enter the churches and dwellings, they're really best visited with a private guide who can explain the history and the curiosities of this unique place.

Today, a visit to the Cripta del Peccato Originale is a unique and truly special experience. It's a bit outside of town, so you'll need the car again or to arrange a transfer. It's a church from the 8th century with stunning frescoes that was carved out of the side of a cliff overlooking a gulley. From the parking area it's a lovely short hike to the church. It's located on a private farm and you need to arrange to visit in advance as visitor numbers are tightly controlled.
Back in town, if you're up for some more outdoor activity, there's a great hike from old town Matera through the ravine and down into the Morgia Materana canyon. You can hire a guide to come with you, but it's easily doable on your own too. Grabbing a panino and water or supplies for a picnic lunch is the best way to enjoy this. The hike is 6 km roundtrip and takes about 2.5 hours.

Enjoy the a few hours this afternoon in town or at your hotel. As evening approaches, if you fancy an aperitivo and mingling with the locals, L'Antica Credenza in Piazza San Francesco is always busy.

For dinner tonight, after your good work hiking, treat yourself to an abundant meal in a lovely location. Set in a cave, L'Abbondanza Lucana is a wonderful gastronomic experience serving hyperlocal fare from the Basilicata region. The antipasti (appetizers) in particular are excellent. Reward yourself with a nightcap at Caffè Tripoli.

If you find yourself with some extra time during your two days in Matera, here are a couple of somewhat unusual things to do: visit a cistern like La Raccolta delle Acque which shows how the people here used to collect and filter water or visit a putridarium like that found in the Chiesa Rupestre di San Pietro Barisano. A putridarium was an underground crypt where bodies were prepared for burial. The exact process for this generally raises eyebrows, so I'll leave it to you to research further!
Day 4 – Matera to Lecce via the Valle D'Itria and Ostuni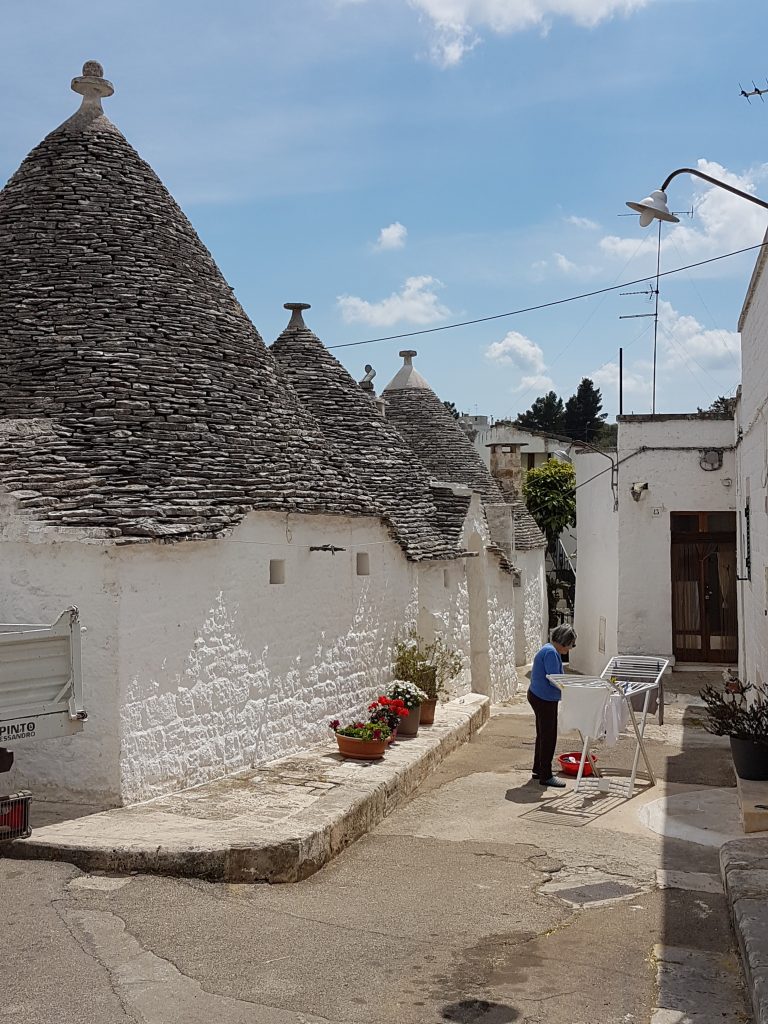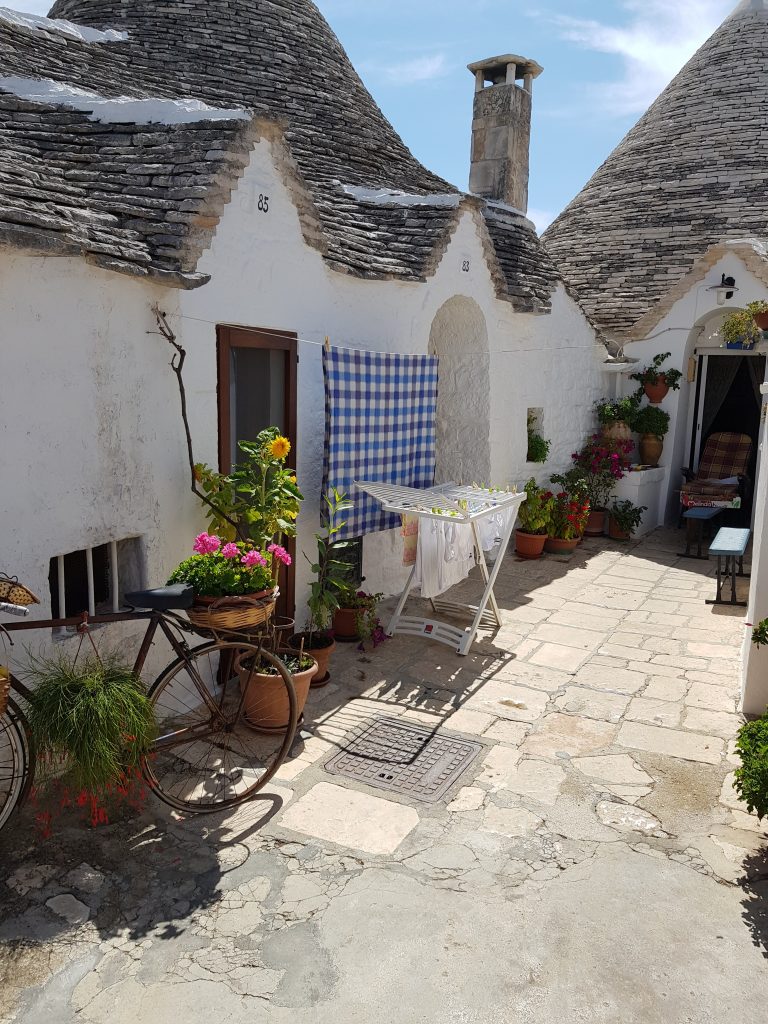 This is a busy day with a fair amount of driving, so make sure you have a good breakfast. You'll be heading through the rolling hills of the Valle D'Itria (the Itria valley) on your way to the charming villages of Alberobello, Locorotondo, Cisternino, and Ostuni before your final destination of Lecce.

Grab the car and head to Alberobello, the village famous for the canonical, stone roof Trulli houses. It's about a one-hour drive and after the first 15 minutes or so you'll have left Basilicata and re-entered Puglia. Alberobello is lovely, but has become extremely touristy. It's best visited before 11 am when the tour buses start to arrive or after 5 pm when they've departed again.
You'll need only 30-60 minutes for a walk around town. The main street splits the town into two sides, Monti and Aia Piccola. Monti is the more touristy side and many of the Trulli have been converted into gift shops selling souvenirs. On the Cathedral side you have Aia Piccola which is quieter and has a few Trulli that have been maintained in their rustic state and can be visited. Have a short look around, grab a coffee and then off to Locorotondo.

If you are a cyclist or walker, some of the prettiest Trulli can be seen along the quiet country lanes between Alberobello and Locorotondo. You'll pass through a fairytale like area of neatly maintained farms, olive groves, and homes. There are many good cycling routes and a few places in town where you can rent a bicycle or e-bike.


15 minutes further south you'll arrive to the charming town of Cisternino whose centro storico (old town) was elected one of the most charming borghi or neighborhoods of Italy. Be sure to visit the Chiesa Matrice and Torre Civica before a walk down Via Basilioni to Vittorio Emanuele square.

Cisternino is the perfect stop for lunch. It is famous for butcher shops which traditionally would function as a store during the day and in the evening would offer the option of purchasing your meat and having it cooked in a special closed wood-fired oven called a fornello. A typical dish is bombette; skewers of pork wrapped with cheese and peppers which are placed vertically in the oven in a technique borrowed from the Arabs. Because the oven is closed, the meat is both grilled and smoked and comes out with a distinct red hue. For anyone feeling
daring, gnumnarid is extremely typical and is lung, heart, or liver usually of a goat or sheep that is wrapped with the intestine and then grilled. It's an adventure! Also try the local capocollo.

Two good options for this type of meal are Bére Vecchia (Via Regina Elena, 8) and Antico Borgo (Via Tarantini 9). Antico Borgo is not always open for lunch though. If you'd rather wait to eat in Ostuni, Osteria del Tempo Perso is a good choice.

It's 25 more minutes to beautiful Ostuni. Rising out of a plain and perched atop a hill overlooking the Adriatic, whitewashed Ostuni is a mesmerizing sight. It's a bigger town, so be prepared for some traffic. Park the car and head to Piazza Della Libertá where you'll find the town hall and a statue of Sant'Oronzo, the patron saint of Lecce and Ostuni. From here, stroll through the old quarter up to the cathedral, making sure to wander off the main street into the alleys as well.
Before leaving Ostuni, one of the best gelato you'll find is at Cremeria La Scala. Everything is made with fresh local ingredients and produced in-house.

From Ostuni to Lecce is an hour. It's been a long day, so on arrival relax at your hotel until dinner.

If you're feeling like something gourmet, any of the following are excellent options: Duo, Primo, or Tre Rane. For more casual fare try Doppio Zero. If somehow you've still got energy, head to Alvino for a drink.
Day 5 – Exploring Baroque Lecce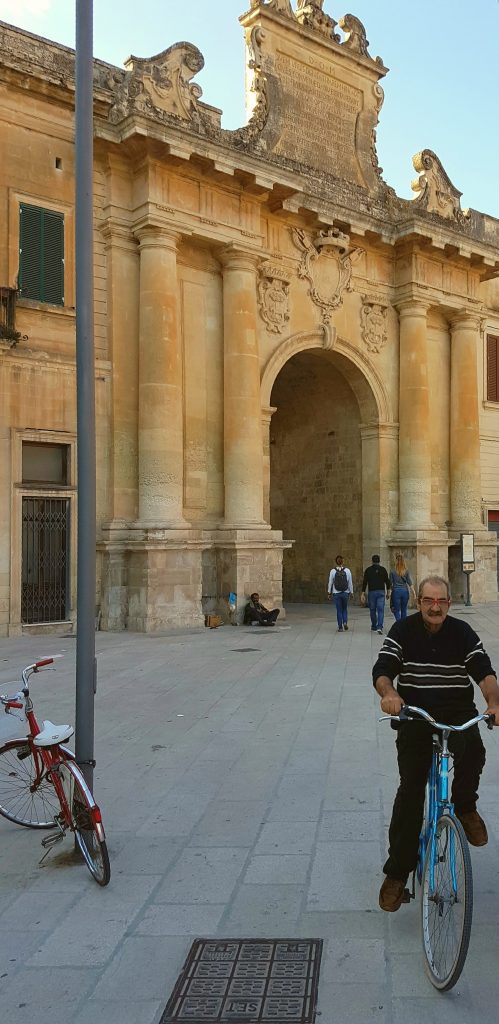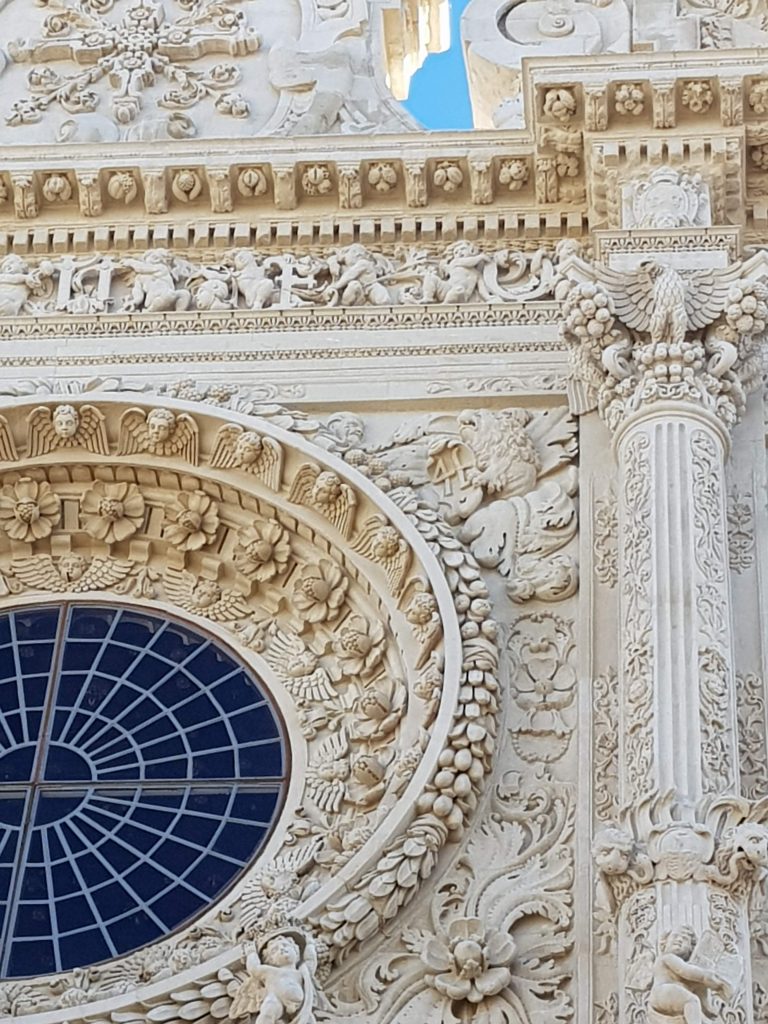 After yesterday's hustle, enjoy an easy-going day exploring my hometown of Lecce. Lecce's baroque and rococo architecture, pedestrianized center, elegant avenues, and countless squares make it a wonderful city to visit leisurely.

To fully understand the history and the vast amount of art and culture on open display around you, I'd recommend starting your day with a post-breakfast private guided tour. 1-2 hours is about the right amount of time.

Spend the late morning and early afternoon exploring the historic center of Lecce. Here are some ideas on what to visit:

Porta San Biagio, Porta Napoli, and Porta Rudiae, which are beautiful historic gates which were (and still are) the entrances to the city. Piazza Sant'Oronzo is the main square of the city and holds an excavated Roman amphitheater.
The Cathedral and stunning Basilica di Santa Croce (whose façade was recently restored after many years of work) are absolute must visits. Chiesa di Santa Chiara, Chiesa di San Matteo, and a stop at an exhibit inside the Castello Carlo V are also pleasant detours.

Whenever you're ready for lunch, trendy Pugliese food with interesting twists awaits at La Cucina di Mamma Elvira.If you just want a quick stop, Il Pizzicotto serves terrific and fresh by-the-kilo pizza. Adjacent to Pizzicotto, you also have Mezzo Quinto whose specialty is stewed horse meat in a red sauce. Neither has indoor seating so grab your plate and sit on one of the benches in Via Degli Ammirati and enjoy the people watching.

Later today, be sure to call Enrico from Crianza to organize a very well-done, but very casual wine tasting at his stylish enoteca. You can also stay here for dinner. If you're feeling like pasta and fabulous Roman dishes, just outside the historic walls you have A'Roma. Located inside the entrance of apartment building, look for the sign and just ring the bell to be let in. There is a patio in the back, but be aware that they allow smoking. If in the mood for seafood, check out always classy Alex.

Excellent cocktails can be hard to find in Italy, but Quanto Basta in the old city is routinely elected one of Italy's finest bars. The atmosphere, with fashionable locals sipping drinks on the sidewalk and spilling out into the narrow street, is always great!

Two things to be sure to try while you're in the city are a rustico (a puff pastry filled with mozzarella, bechamel, and a touch of tomato sauce) and a caffe leccese (an espresso served with ice and sweetened, syrupy almond milk). For anyone with a sweet tooth, the classic chocolatier Maglie has something for everyone. Their chocolate covered figs are divine.


Day 6 – Coastal Driving from Leuca to Otranto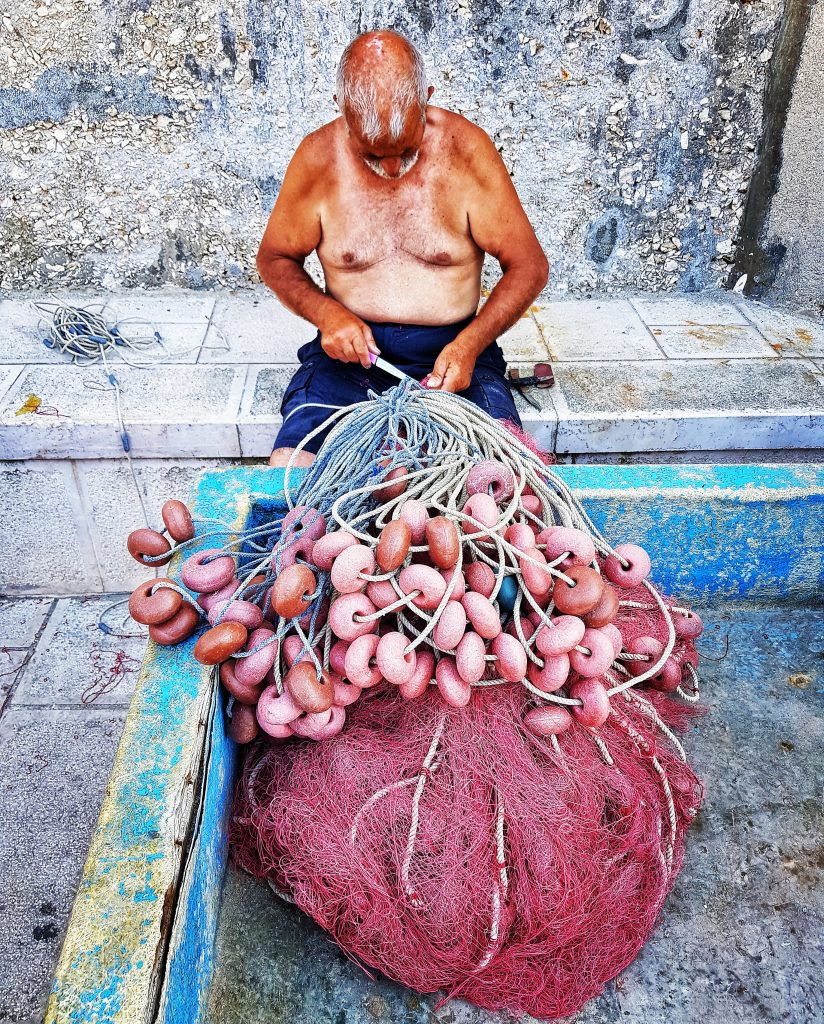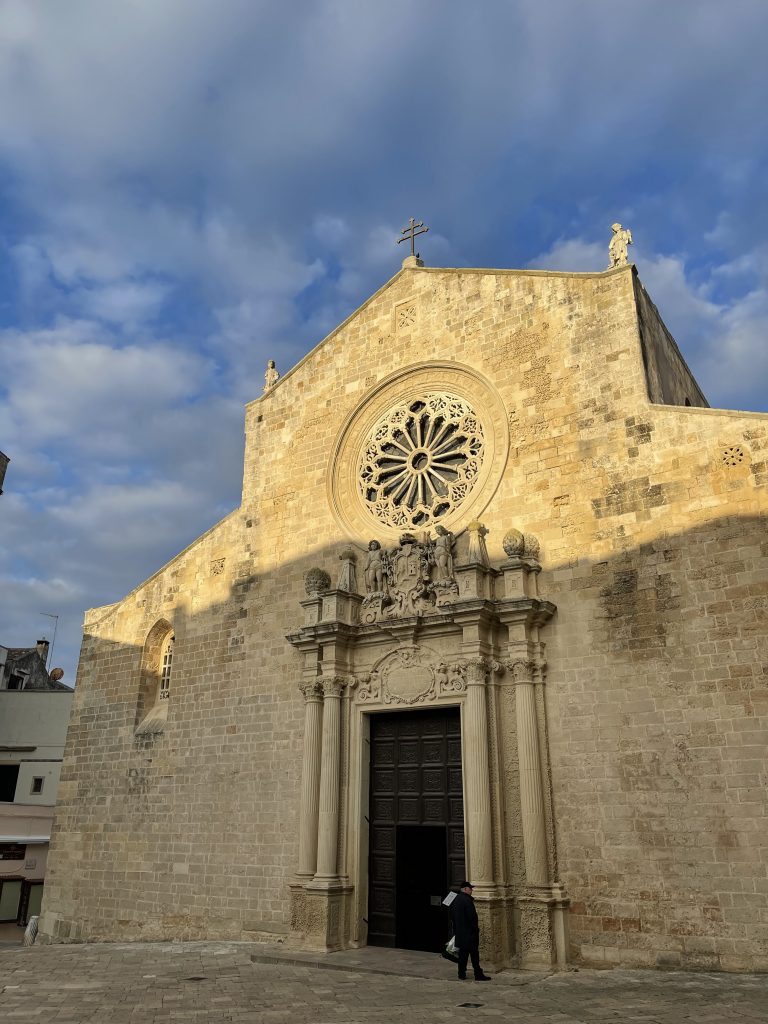 Grab the car and head south to Santa Maria di Leuca, Italy's southernmost point and where our coastal drive to Otranto will begin. You have two routes – one runs inland straight to Leuca, while the other goes to Gallipoli on the coast before continuing to Leuca. Gallipoli is a charming fishing village with good beaches and a lovely historic center. I'd recommend a stop here, but if you want to get going you can skip it.
For anyone uninterested in the coastal drive, you have fabulous beaches half an hour from Lecce on the Ionian coast near Gallipoli or on the Adriatic a little north of Otranto. You could spend a lovely day just visiting either town and their surrounding beaches.

Assuming you're up for the drive, our next stop is Leuca. Here, where the Ionian sea meets the Adriatic, have a coffee and enjoy the view.

Road SP 358 from Leuca to Otranto covers 60 km of sundrenched cliffside coastal driving. You'll pass through many lovely beach villages like Tricase, Castro, and Santa Cesarea Terme where you can stop for a snack and a swim. For adrenaline junkies, Ponte Ciolo on your route is a 30 meter high bridge over a little cove.

Drive this route slowly and stop in the villages along the way for a dip and to enjoy the jaw dropping views. As you get closer to Otranto, you may be able to catch a glimpse of Albania just across the sea. Note that this stretch of coast is rocky and you won't find sand beaches until after Otranto. Most swimming options here will be directly off the boardwalk or cement jetties jutting into the water.

You have lunch options throughout the route and at the end in Otranto. If you get hungry earlier, Taverna del Porto in Tricase serves wonderful fresh seafood. Castro Marina is also a good place to stop. In Otranto, you can have lunch at L'altro baffo (seafood, no surprise, is the specialty in this entire area!) If you're willing to trade culinary excellence for a sea view, I Villani D'Aragona sits directly on the water. The food is not as good, but the location can't be beat.
After lunch, make sure to visit the Cathedral of Otranto which houses a fabulous floor mosaic from the 1100s. It opens after 3 pm. Another curiosity in the church, you can see the bones of the 800-some martyrs who were killed during an Ottoman occupation of the city in the late 1400s. From Otranto you can go for a swim at a sandy beach at nearby Torre dell'Orso or head straight back for the 35 minute drive to Lecce. Enjoy your last evening here in Puglia's most refined city before you travel north tomorrow for a few days at the beach.
Day 7 – Beachside Relaxing in Savelletri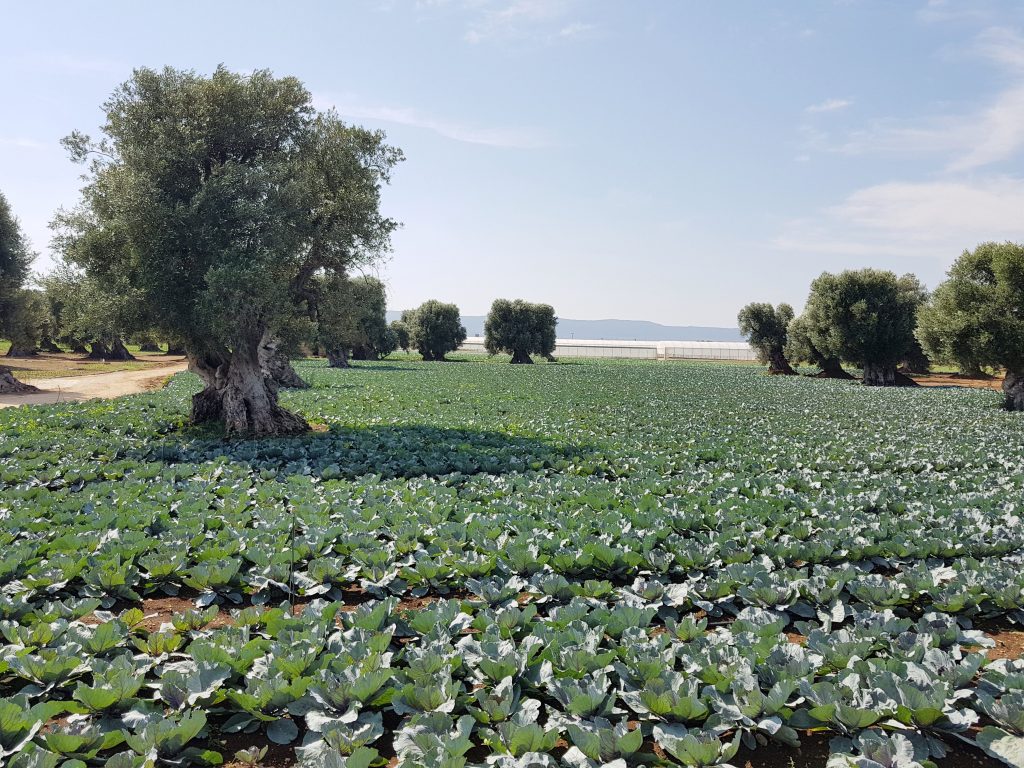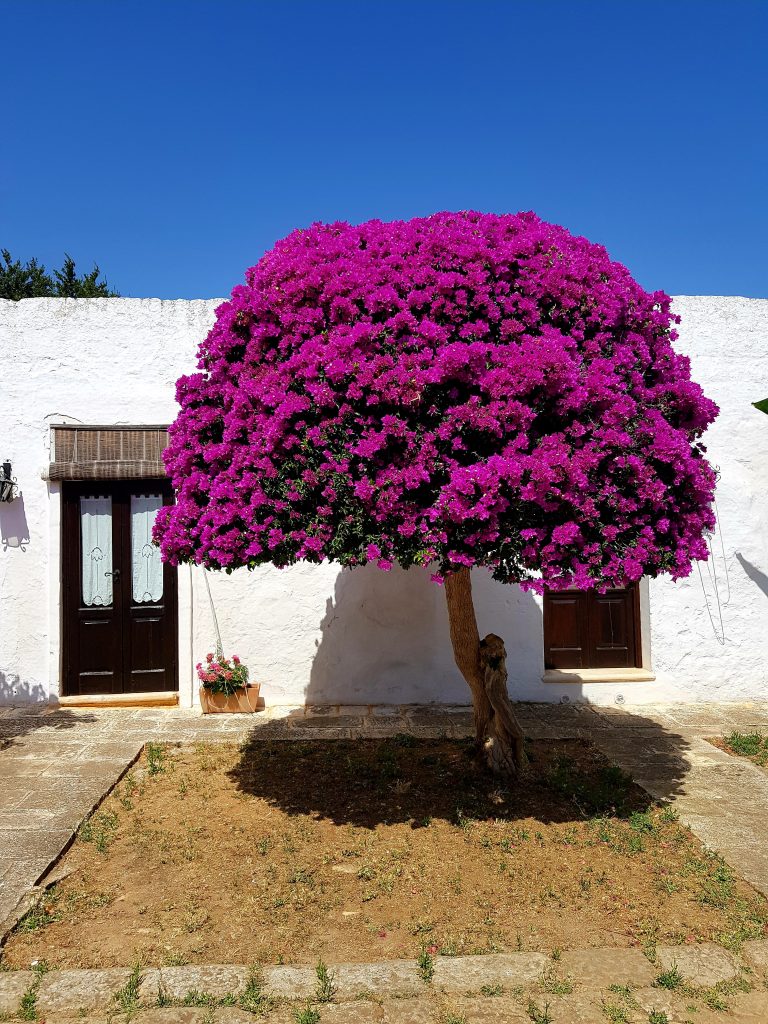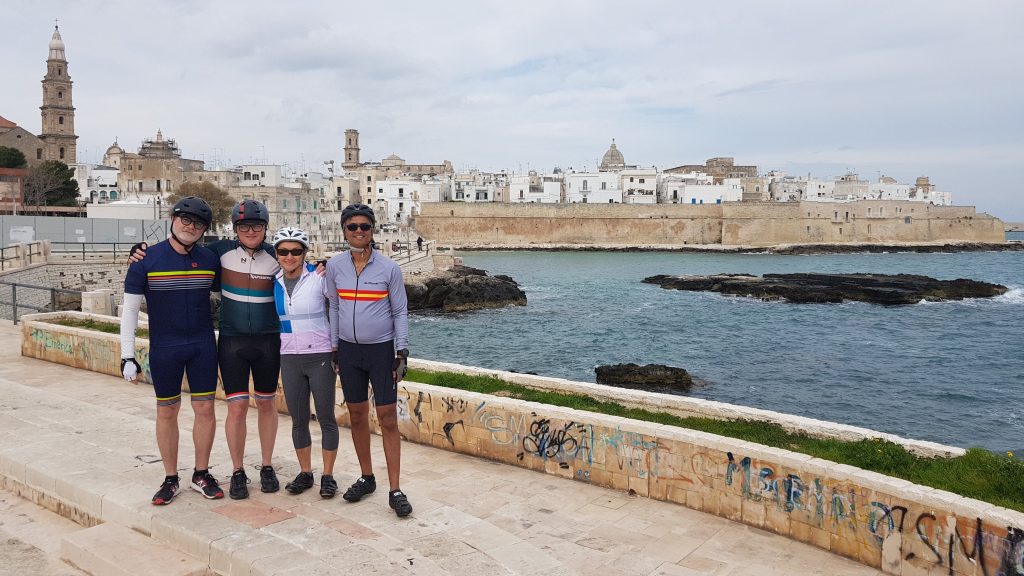 No trip to Puglia would be complete without a few days relaxing by the seaside. With that in mind, today we'll head north from Lecce to the Savelletri area famous for its Masseria-style accommodation, sandy beaches, and silky waters.

I'd recommend staying in a Masseria for your last two nights. These are fortified farmhouses from the 1800s that have been renovated and turned into smart and sophisticated hotels. They're located on quiet country roads amongst the olive groves.

Outside of the fisherman's village of Savelletri you have many options at all different budgets. For high end, Torre Coccaro, Torre Maizza, and Borgo Egnazia are very famous. La Peschiera is another very exclusive option. In shoulder season, prices can be… if not reasonable, at least not quite so eye-popping. Some hotels have their own beach clubs, but regardless most will offer free shuttle service to the various beaches.

Check in to your hotel and enjoy the lovely grounds, pool, or perhaps head straight to the beach! You can have lunch at the beach.

Spend the afternoon lounging as it summertime is hot and you don't want to be out exploring at this time of day.

For dinner, most hotels, both large and small, have good restaurants serving fresh local food. If you want to venture out, you could try a restaurant in Monopoli (also lovely for a stroll this time of the evening) or by the port in Savelletri. Monopoli in the evening is very lively and busy. It's significantly larger than both Savelletri and nearby Polignano and was traditionally a fishing town. It has a cute little port, a lovely promenade, and a pleasant center that feels a bit Spanish. Monopoli's Cathedral is beautiful and you can also visit the Grotto Churches which house exquisite frescoes.


Day 8 – Beach, Cooking Class, and Polignano a Mare
This morning enjoy more time at the beach with lunch back at your hotel. In the afternoon, you can visit do an olive oil tasting, a cheese making demonstration, or a pizza/pasta class. Or back to lounging on the beach!

In the evening, you can drive over to Polignano a Mare for a visit. Polignano is a cliffside town with dramatic views. It's the sight of a Red Bull diving contest most years and you'll often see daring youth diving off the bridge and surrounding cliffs. There are no major sites in town, but its charming (not at lunchtime though!) and atmospheric. If you want to go for a boat ride, there are lots of agencies offering everything from speedboats to catamarans.

While here, you can try a gourmet panini with fish at Pescaria and a good gelato at Supermago del Gelo. You should also stop at a caffè for a Speciale which is an espresso with cream and lemon zest.

For dinner, a great spot for seafood on your last night is La Locanda di Felisiano. It can be a bit hard to find, but the food is excellent, the price fair, and the atmosphere welcoming and festive.
Would you like to have your Puglia trip completely custom made?